Excursion
I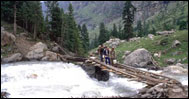 mportant tourist centres of the state around Guwahati are Kamakhya Temple, Umananda (Peacock Island), Navagraha (Temple of nine planets), Gandhi Mandap, State Zoo, State Museum, Sukreswar Temple, Geeta Mandir, Madan-Kamdev Temple and Saraighat Bridge.
In the rest of the state the places of tourist interest are Kaziranga park (famous for one horned rhinos), Sib Sagar (Shiv Temple), Majuli (largest river island in the world), Chandubi lake, Batadrava (Birth place of great Vaishnav Saint Sankardev), and Saulkuchi (renowned for its silk industry).
Destination

Wildlife Sanctuary
Guwahati (gateway to the Assam and N.E. region & principal city of Assam.). Kamakhya & Bhubhaneshwari temples; Basistha Ashram; Navagraha Temple; State Zoo; Museum; Regional Science Centre; Planetorium; Tirupati Balaji Mandir; Srimanta Sankardev Kalakshetra; Umananda Temple; Shree Shyam Mandir, etc.
Dispur (capital of Assam); Diphu (centre of Karbi art and culture).
Sibsagar (seat of Ahom rule in Assam- Shivdol, Vishnudol, Devidol, Rang Ghar, Talatol Ghar, Joysagar, Ahom Museum, Gargaon, Kareng Ghar, Charaideo, etc.)
Sualkuchi (famous for Assamese silk-Muga& Pat)
Chandubi (a natural lagoon and picnic spot); Barpeta (Vaishnava Monastery, Shrine of Shri Madhab Dev).
Hajo (where three religions meet- Hinduism, Buddhism & Pao-Mecca, a mosque for Islam);
Jorhat and Dibrugarh (major tea producing areas); Tezpur (temples, ancient ruins and monuments-Da Parbatia, Agnigarh, Bamuni Hills, Bhairavi and Mahabhairava temples and the twin tanks of Bar Pukhuri and Padum Pukhuri and Cole Park).
Madan Kamdeva (famous for erotic sculpture of 12th century); Sri Surya Pahar(rock- cut images)
Digboi ( one of the world's oldest oil refinery);Majuli (largest river island of the world, centre of Vaishnava culture. There are many satras, which are regarded as the main centres for Assamese art, music, dance, drama, etc.);
Jatinga (famous for the bird mystery near Haflong), Haflong (only hill station in Assam)
Bhalukpong (famous for scenic beauty, picnic and angling spot)
Bhairavakunda (a picnic spot at the border of Arunachal Pradesh, Assam and Bhutan); Daranga (famous winter mela held every year); Bordoa (birth place of Shri Sankardev, famous Vaishnavite reformer of Assam).
---
Wildlife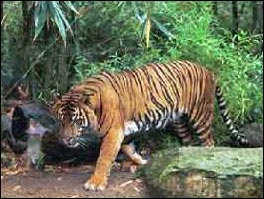 Kaziranga National Park
Kaziranga, the world-renowned park lies in Golaghat and Nagaon district. It covers an area of 430 sq kms. It is the home of the great Indian one- horned rhino, breeding place of pelican.
Manas National Park
The only Tiger Reserve of Assam. Manas is one of the most magnificent National Parks of India. It is also a world heritage site.
Nameri National Park (on the border of Arunachal and Assam).
Dibru-Saikhowa National Park.
Orang (Rajiv Gandhi) National Park.
Pabitora Wildlife Sanctuary
Bura-Chapori Wildlife Sanctuary
Information on Tours & Travel excursion of Assam - india